World's first Water Stewardship Standard is released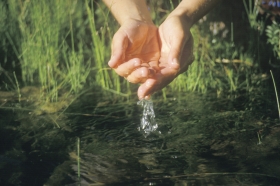 The first international Water Stewardship Standard, a global framework to promote sustainable freshwater use, has been released by the Alliance for Water Stewardship (AWS).
The Standard defines globally applicable, consistent criteria for sustainable management and use of the world's limited freshwater resources.
"We are excited to see global leaders join us on the journey towards sustainable and equitable water use," said Michael Spencer, Chair of AWS's board and representative of Water Stewardship Australia.
"Safeguarding fresh water requires collaboration across many sectors. Governments and civil society help ensure proper water management for people and nature. Companies can be better stewards of fresh water to safeguard their business and contribute to protecting the catchments they share with local communities."
Water is a shared resource critical for human health, driving the economy, and maintaining freshwater species. Yet due to a myriad of factors, including growing demand, climate change and pollution, fresh water in many regions is increasingly at risk.
The Standard was developed through a four-year, multi-stakeholder, global water roundtable process that included a diversity of business, public sector and civil society interests from around the world, as well as pilot projects held in seven countries.
Over the course of nine months, leading companies in pulp and paper, mining, chemicals, oil and gas, water service provision and agriculture applied the Standard to test its feasibility and applicability. These projects helped define targets in water governance, water balance, water quality and other important water-related areas.
The European Water Partnership, a Brussels-based NGO, has been a strong supporter and partner of the AWS bringing in European experience and expertise from the application of the European Water Stewardship Standard launched in 2012.
Friedrich Barth, Vice Chairman of the European Water Partnership, said: "When the European Water Partnership started the European standard development, we felt there was a clear need for robust and credible water risk management around Europe.
"In its first year, water authorities and businesses in food & beverages, chemicals and even airports are using the EWS standard to assess, verify and communicate responsible water stewardship practices."
Continue reading at ENN affiliate, ClickGreen.
Water image via Shutterstock.