Swimming pig colony is site to see in Bahamas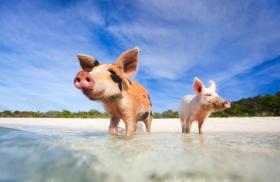 In the Bahamas, there is an uninhabited island called Big Major Cay, located in the Exuma district.
Actually, that's not exactly true. The island is uninhabited by humans, but considered the 'Official Home of the Swimming Pigs.'
Visitors to the island's "Pig Beach," as it is commonly called, get to feed and sometimes swim with the pig residents.
The official home of the swimming pigs website describes:
"The family of pigs, dubbed 'adorable' by tourists, locals and media alike, have become incredibly popular. They live freely on the sandy beaches, and after basking in the sun for hours, they swim in the surf. The pigs, though feral, are exceptionally friendly, running from under the shade of the almond trees to greet visitors that bring them treats. The swimming pigs are truly a sight to behold."
The pigs are not native to the area, and how they got to Big Major Cay remains a mystery, but there are theories.
Some guess that the pigs were dropped off by a group of sailors who wanted to come back and cook them, or that there was a nearby shipwreck and the pigs swam to safety. There are even those who suggest that the pigs were part of a business scheme to attract tourists to the Bahamas. (If true, well played, Bahamas.)
However they came to be there, the clan is up to approximately 20 pigs and piglets surviving comfortably thanks in large part to the island's freshwater springs and the generosity of visiting Bahamians and tourists.
Continue reading at ENN affiliate Care2.
Pigs on beach image via Shutterstock.