Popcorn-like fossils provide evidence of environmental impacts on species numbers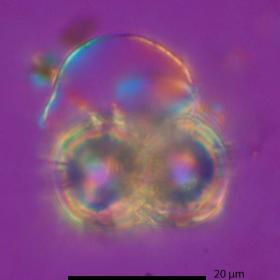 The number of species that can exist on Earth depends on how the environment changes, according to new research led by the University of Southampton.
By analysing the fossil record of microscopic aquatic creatures called planktonic foraminifera, whose fossil remains now resemble miniaturised popcorn and date back millions of years, the research provided the first statistical evidence that environmental changes put a cap on species richness.
Lead author of the study, published in the journal Ecology Letters, Dr Thomas Ezard, an evolutionary ecologist at the University of Southampton, said: "While the idea of infinite species on a finite Earth is clearly fanciful, the relevance of upper limits to diversity is still a fractious debate amongst evolutionary biologists, ecologists and palaeontologists.
"We are the first to show statistically that this upper limit is environmentally dependent. It's intuitive that a changing environment alters how many species we see -- the spatial gradient of more species in the tropics than at the poles is pervasive evidence for its large-scale impact.
Planktonic Foraminifera Image credit: The International Nannoplankton Association
Read more at ScienceDaily.