Study: How Climate Change Threatens Mountaintops (and Clean Water)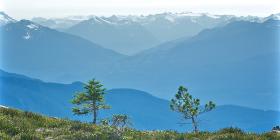 Mountains are far more than rocks. They also confer various natural benefits—for example, about half of the world's drinking water filters through their high-elevation forests, plants, and soils.
Now, a new, first-of-its kind study, in the journal Nature, shows how these mountain ecosystems around the globe may be threatened by climate change.
Rising temperatures over the next decades appear likely to "decouple" key nutrient cycles in mountain soils and plants, an international team of sixteen scientists reports. Their study suggests that this is expected to disrupt the function of mountaintop ecosystems, as plant communities above and at treeline are thrown into turmoil faster than trees can migrate uphill in a warmer world.
Global Study
"Humanity relies on mountains," says Nathan Sanders — an ecologist at the University of Vermont and newly appointed director of UVM's Environmental Program — who helped lead the new study that gathered data at treeline in New Zealand, Colorado, Canada, Australia, central Europe, Japan and Patagonia. "We found in all these places that temperature change drives many other kinds of change, potentially disturbing biodiversity, and that could have a profound effect on the ecosystem services mountains provide to people—like clean water."
Continue reading at University of Vermont
Photo Credit: Jordan Mayor