Asian grass carp pose ecological threat to Great Lakes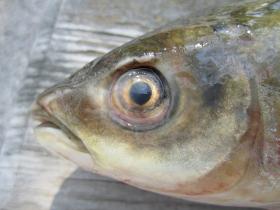 Asian grass carp pose a significant ecological threat to the Great Lakes and that threat could be extreme over the next 50 years.
This is the major finding of a large binational risk assessment authored by a team of American and Canadian researchers, including Nick Mandrak, associate professor of biological sciences at U of T Scarborough.
"We don't want grass carp in the Great Lakes, and we need to act now in order to eradicate the population in the Sandusky River," says Mandrak, referring to the grass carp population already spawning in the Sandusky River in Ohio, which is connected to Lake Erie.
The peer-reviewed study, led by Fisheries and Oceans Canada and coordinated by the Great Lakes Fishery Commission, has researchers from Fisheries and Oceans Canada, U of T, the U.S. Geological Survey and the U.S. Fish and Wildlife Service.
Continue reading at University of Toronto.
Photo via University of Toronto.