Extensive ice cap once covered sub-antarctic island of South Georgia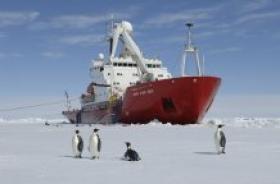 A new study reveals the sub-antarctic island of South Georgia – famous for its wildlife – was covered by a massive ice cap during the last ice age.
The results are published today in the journal Nature Communications.
South Georgia, the remote UK territory where Sir Ernest Shackleton landed during his dramatic voyage from Antarctica to rescue the team of his Endurance expedition, is home to various species of penguins and seals, and has featured on documentaries including Frozen Planet and Planet Earth II.
The island's unusual plant communities and marine biodiversity, which are protected within a large Marine Protected Area, have survived and evolved through multiple glacial cycles for tens or even hundreds of thousands of years.
Continue reading at University of Exeter.
Photo via British Antarctic Survey.