Treated Fracking Wastewater Contaminated Watershed with Radium and Endocrine Disrupters, Study Finds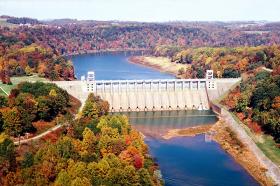 A study in the Marcellus Shale region of western Pennsylvania has shown that even after being treated, wastewater from hydraulic fracturing operations left significant contamination in a waterway downstream of treatment plants.
Researchers from Penn State University, Colorado State University, and Dartmouth College studied sediments from Conemaugh River Lake — a dammed reservoir east of Pittsburgh — and found that they were contaminated with endocrine-disrupting chemicals called nonylphenol ethoxylates; polycyclic aromatic hydrocarbons, which are carcinogens; and elevated levels of radium.
The study, published in the journal Environmental Science & Technology, said that the highest concentrations of these pollutants were found in lake sediment layers deposited five to ten years ago during a peak period of fracking wastewater disposal. The high radium levels were found as far as 12 miles downstream of treatment plants.
Read more at Yale Environment 360
Photo: Aerial view of Conemaugh River Lake, where researchers found sediments contaminated by wastewater from upstream fracking treatment plants. Credit: US ARMY CORPS OF ENGINEERS