Financial Incentives Could Conserve Tropical Forest Diversity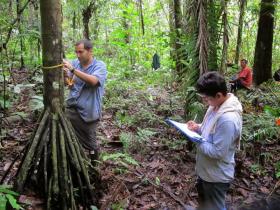 The past few decades have seen the rise of global incentive programs offering payments to landowners to help reduce tropical deforestation. Until now, assessments of these programs have largely overlooked decreases in forest diversity. In what might be a first of its kind study, University of Missouri researchers have integrated forest imaging with field-level inventories and landowner surveys to assess the impact of conservation payments in Ecuador's Amazon Basin forests. They found that conservation payment programs are making a difference in the diversity of tree species in protected spaces. Further, the species being protected are twice as likely to be of commercial timber value and at risk of extinction.
"It has been widely proven that degradation of tropical forests have major implications for carbon cycles and biodiversity; yet, destruction of these forests still occur at alarming rates," said Francisco Aguilar, associate professor of forestry in the MU School of Natural Resources. "More than 7 billion acres of tropical rain forests were destroyed between 1995 and 2015, so policy makers established voluntary compensation programs to slow down tropical deforestation and degradation. While these programs seem to be making a difference, there aren't enough on-the-ground evaluation tools to see if biodiversity is being maintained, too. Therefore, we looked for other ways to observe the value of these payments for forest conservation."
Philip Mohebalian, a former doctoral student in Aguilar's group who now works for the World Wildlife Fund, built a methodology to assess degradation in Ecuador. Using remote images, Mohebalian combined inventories of Amazon rain forests with face-to-face surveys with landowners receiving payments for their conservation efforts through Ecuador's Socio Bosque Program (PSB).
Read more at University of Missouri-Columbia
Image: Researchers from the University of Missouri and Universidad Amazónica collecting forest biological measurements in Ecuador's Amazon Basin. (Credit: Courtesy of Philip Mohebalian)