Extreme melt season leads to decade-long ecosystem changes in Antarctica's Dry Valleys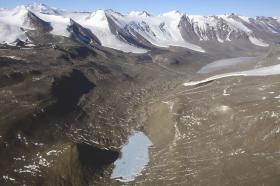 An abnormal season of intense glacial melt in 2002 triggered multiple distinct changes in the physical and biological characteristics of Antarctica's McMurdo Dry Valleys over the ensuing decade, new research funded by the National Science Foundation (NSF) shows.
The findings suggest that abrupt, short-lived climate events can cause long-term alterations in polar regions that unfold over the span of several years and subsequently change the overall trajectory of an ecosystem.
The new research appears today in the journal Nature Ecology and Evolution.
Paul Cutler, the NSF program officer for the two Long-Term Ecological Research (LTER) sites in Antarctica, noted that these results underscore the value of gathering data over decades.
"The natural world operates in non-linear ways and on many different time scales, from daily cycles to processes that take centuries," said Cutler. "LTERs are instrumental in measuring and deciphering these complexities in order to inform basic understanding of ecosystem functioning and to refine predictions of the future of critical ecosystems, particularly in areas like the Dry Valleys, which maintain an ancient, but potentially delicate ecological balance."
Continue reading at National Science Foundation
Image: An aerial view of the Taylor Valley in the McMurdo Dry Valleys.
Credit: Peter Rejcek, NSF