Study Finds Drought Recoveries Taking Longer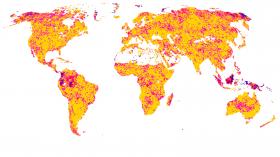 As global temperatures continue to rise, droughts are expected to become more frequent and severe in many regions during this century. A new study with NASA participation finds that land ecosystems took progressively longer to recover from droughts in the 20th century, and incomplete drought recovery may become the new normal in some areas, possibly leading to tree death and increased emissions of greenhouse gases.
In results published Aug. 10 in the journal Nature, a research team led by Christopher Schwalm of Woods Hole Research Center, Falmouth, Massachusetts, and including a scientist from NASA's Jet Propulsion Laboratory, Pasadena, California, measured recovery time following droughts in various regions of the world. They used projections from climate models verified by observations from the Moderate Resolution Imaging Spectroradiometer (MODIS) instrument on NASA's Terra satellite and ground measurements. The researchers found that drought recovery was taking longer in all land areas. In two particularly vulnerable regions -- the tropics and northern high latitudes -- recovery took ever longer than in other regions.
Schwalm noted that in model projections that assumed no new restrictions on greenhouse gas emissions (the so-called business-as-usual scenario), "Time between drought events will likely become shorter than the time needed for land ecosystems to recover from them."
Continue reading at NASA Jet Propulsion Laboratory
Image: Global patterns of drought recovery time, in months. The longest recovery times are depicted in shades of blue and pink, with the shortest recovery times in yellow. White areas indicate water, barren lands, or regions that did not experience a drought during the study period.
Credit: Woods Hole Research Center