High-resolution modeling assesses impact of cities on river ecosystems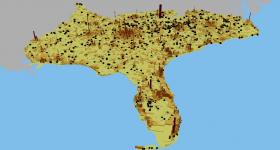 New mapping methods developed by researchers at the Department of Energy's Oak Ridge National Laboratory can help urban planners minimize the environmental impacts of cities' water and energy demands on surrounding stream ecologies.
In an analysis published in Proceedings of the National Academy of Sciences, an ORNL-led team used high-resolution geospatial modeling to quantify the effects of land, energy, and water infrastructures on the nation's rivers and streams.
Using streamflow data from the U.S. Geological Survey, the researchers mapped changes to natural hydrology to assess how infrastructure development and competition over water resources affects the environment at a national scale. Their data-driven approach sheds light on the extent to which water resources and aquatic species are affected by urban infrastructures and could help cities curb their burden on regional ecosystems.
Read more at DOE / Oak Ridge National Laboratory
Image: A new study from ORNL shows the far-reaching impacts of U.S. cities' energy consumption on regional ecosystems. Urban areas cover only about 5 percent of the Southeast's landscape but cities' water and energy infrastructures often extend well beyond urban areas as power plants (represented as black dots) are distributed throughout the entire region.
Credit: Ryan McManamay / Oak Ridge National Laboratory, U.S. Dept. of Energy