Dispersants Improved Air Quality for Responders at Deepwater Horizon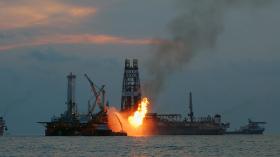 A study published Aug. 28, 2017, in the Proceedings of the National Academy of Sciencesadds a new dimension to the controversial decision to inject large amounts of chemical dispersants immediately above the crippled oil well at the seafloor during the Deepwater Horizon disaster in 2010. The dispersants likely reduced the amount of harmful gases in the air at the sea surface—diminishing health risks for emergency responders and allowing them to keep working to stop the uncontrolled spill and clean up the spilled oil sooner.
In the midst of the Deepwater Horizon crisis, officials made the unprecedented and controversial decision to inject more than 700,000 gallons of chemical dispersant over 67 days immediately above the oil rig's severed wellhead at the bottom of the ocean. The objective was to break up petroleum that surged uncontrollably from the wellhead into smaller droplets in the deep sea, with the goals of diminishing oil slicks and reducing the amount of harmful gases arriving at the ocean surface.
Proponents said the dispersants did help dissipate oil slicks on the sea surface, causing less oil to taint shoreline beaches and marshes. Opponents said the dispersants themselves were toxic, may have caused environmental damage, and were not effective at reducing the already small droplets forming at the wellhead.
Continue reading at Woods Hole Oceanographic Institution
Photo: A new study finds that dispersants used at the Deepwater Horizon site dramatically improved the air quality for responders and presumably reduced the number of days when the air quality was too poor and responders had to don respirators and / or had to suspend cleanup efforts.
Photo by: Dan Torres, Woods Hole Oceanographic Institution