UBC Research Discovers a Chemical-Free Way to Keep Apples Fresher Longer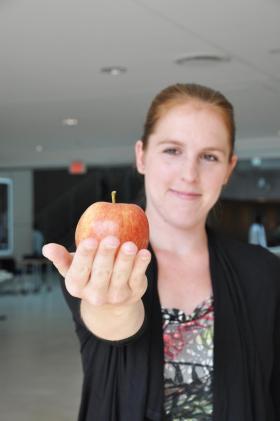 An apple a day may keep the doctor away, but the mold on it could make you sick.
Rhiannon Wallace, a PhD candidate at UBC Okanagan's campus, has developed a way to stop, or at least control, blue mold—a pathogen that can rot an apple to its core. Wallace's research has determined that bacteria, originally isolated from cold Saskatchewan soils, may be the answer to preventing mold growth and apple rot while the fruit is in storage or transport.
"The majority of postharvest fungal pathogens are opportunistic," explains Wallace, who is working with UBC Biology Prof. Louise Nelson. "If a fruit is physically damaged, it is at an increased risk of rotting during storage. So a tiny blemish on the fruit from harvest or handling can turn into a conduit for attack by fungal pathogens and subsequently result in the development of mold."
The fungal pathogen Penicillium expansum, also known as blue mold, destroys millions of stored apples each year. Post-harvest rot can result in yield losses of up to 20 per cent in developed countries such as Canada, while developing countries can lose up to 50 per cent of the crop, Wallace says.
Read more at University of British Columbia Okanagan Campus
Image: Rhiannon Wallace, a PhD candidate at UBC Okanagan's campus, has developed a way to protect apples from rotting. (Credit: UBC Okanagan photo)