Report Suggests Love of the Seas Could be the Key for Plastic Pollution Solution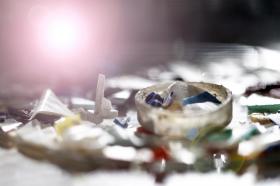 Tapping into the public's passion for the ocean environment could be the key to reducing the threats posed to it by plastic pollution, a new report suggests.
Millions of tons of plastic particles accumulate in our seas each year as a result of human behaviour, and once there they have a potentially detrimental effect on marine life.
But reversing this trend, and finding ways to maintain both the health of our oceans and the human benefits associated with it, is a complicated task.
Writing in Nature Human Behaviour, academics from the University of Plymouth and the University of Surrey identify recent examples where public pressure has led to policy change, including levies on single-use plastic bags and bans on the use of microbeads in cosmetics.
Read more at University of Plymouth
Image: These are tiny plastic fragments found in samples of sea water tested at the University of Plymouth. (Credit: University of Plymouth)