30-day countdown to JPSS-1 launch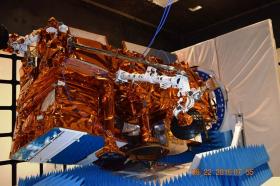 The Joint Polar Satellite System-1, the first in a new series of highly advanced NOAA polar-orbiting satellites, is scheduled to lift off Nov. 10, at 1:47 a.m. PST from Vandenberg Air Force Base, California.
"The new JPSS satellite will join GOES-16 as we are confronting one of the most tragic hurricane seasons in the past decade," said Secretary of Commerce Wilbur Ross. "The JPSS satellite system will provide advanced forecasting on not only hurricanes, but also dangerous weather events threatening communities across the United States."
The satellite, called JPSS-1, will provide meteorologists with a variety of observations, such as atmospheric temperature and moisture, sea-surface temperature, ocean color, sea ice cover, volcanic ash and fire detection. Forecasters will be able to use the data to better predict weather events and hazards, such as a hurricane's track, and when a hurricane will intensify or weaken, as well as identifying power outages in addition to locating and evaluating damage following a storm.
Read more at National Oceanic and Atmospheric Administration (NOAA)
Image: JPSS-1 Satellite Undergoes Electromagnetic Interference (EMI), Compatibility (EMC) and Environmental Effects Testing
Image Credit: Ball Aerospace & Technologies Corp / NOAA