Forest fires on the rise as JRC study warns of danger to air quality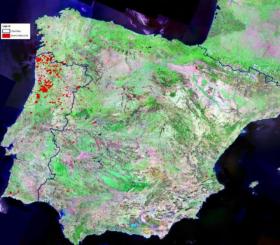 The JRC's annual forest fires report confirms a trend towards longer and more intense fire seasons in Europe and neighbouring regions, with wildfires now occurring throughout the year. The report coincides with an international study which finds that global wildfire trends could have significant health implications due to rising harmful emissions.
The 2016 report, which is the only official source of information on the number of fires and area burnt for countries both inside and outside the EU, provides policymakers across the EU with the best available data and tools to support them in preventing the destructive effects of forest fires. Through the collation of individual country reports, the publication also supports the sharing of good practices in forest management.
Read more at European Commission Joint Research Centre
Image: The Rapid Damage Assessment module of EFFIS shows the extent of fire damage in Spain and Portugal in 2016
Image Credit: EU Joint Research Centre