50-years of Data From a 'Living Oxygen Minimum' Lab Could Help Predict the Oceans' Future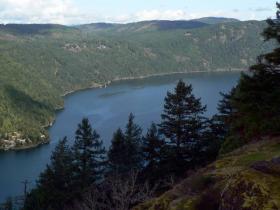 Canadian and US Department of Energy researchers have released 50 years' worth of data chronicling the deoxygenating cycles of a fjord off Canada's west coast, and detailing the response of the microbial communities inhabiting the fjord.
The mass of data, collected in two new Nature family papers, could help scientists better predict the impact of human activities and ocean deoxygenation on marine environments. Currently, oxygen minimum zones (OMZs) constitute up to 7 percent of global ocean volume. Continued expansion of OMZs in the northeastern subarctic Pacific has the potential to transport oxygen-depleted waters into coastal regions, adversely affecting nutrient cycles and fisheries productivity.
"We live on an ocean-dominated planet, and the ocean's cellular life is in turn dominated by microbial communities that form interaction networks which are both resilient and responsive to environmental perturbation," said University of British Columbia microbiologist Steven Hallam.
"These microbial networks drive nutrient and energy conversion processes responsible for essential ecosystem functions and services."
Read more at University of British Columbia
Image: University of British Columbia and US Department of Energy researchers are using Canada's Saanich Inlet as a 'living' oxygen minimum lab. (Credit: David Stanley. CC BY 2.0 via Wikimedia Commons.)