VIMS study identifies tipping point for oyster restoration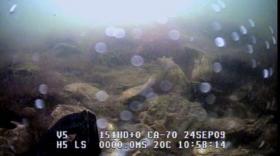 We're all familiar with tipping points, when crossing what might seem a minor threshold can lead to drastically different outcomes—the Super Bowl favorite that falls to last place with injury to a single lineman, a tomato seedling that surges skyward the moment it tops the shadowy confines of its clay pot.
Now, a study by researchers at William & Mary's Virginia Institute of Marine Science identifies a tipping point in oyster restoration efforts, wherein reefs rebuilt to reach a foot or more above the bottom develop into healthy, self-sustaining ecosystems, while those rebuilt at lower heights are quickly coated and then buried by sediment.
The study, the feature article in the November 6 issue of Marine Ecology Progress Series, is co-authored by former VIMS Ph.D. student Allison Colden along with VIMS professors Rob Latour and Rom Lipcius. It is the second featured article by VIMS researchers in the prestigious journal in the last month.
Continue reading at Virginia Institute of Marine Science
Photo: High-Relief Reef Underwater video footage of a healthy, high-relief oyster reef. CREDIT: Allison Colden