Study Settles Prehistoric Puzzle, Finds Carbon Dioxide Link to Global Warming 22 Million Years Ago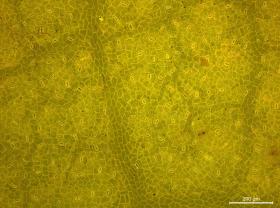 Fossil leaves from Africa have resolved a prehistoric climate puzzle — and also confirm the link between carbon dioxide in the atmosphere and global warming.
Research until now has produced a variety of results and conflicting data that have cast doubt on the link between high carbon dioxide levels and climate change for a time interval about 22 million years ago.
But a new study has found the link does indeed exist for that prehistoric time period, say researchers at Southern Methodist University, Dallas.
The finding will help scientists understand how recent and future increases in the concentration of atmospheric carbon dioxide may impact the future of our planet, say the SMU researchers.
Read more at Southern Methodist University
Image: Researchers measured and counted the leaf pores and epidermal cells on well-preserved fossil leaves from the Highlands of Ethiopia to determine the concentration of carbon dioxide present in the Earth's atmosphere 22 million years ago and 27 million years ago. (Credit SMU)