New trap for mountain pine beetles could help weaken their spread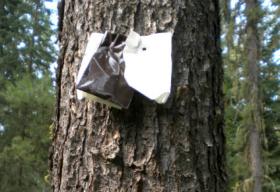 By tweaking the existing bait and changing up the spacing of pine trees used to trap and monitor the spread of the mountain pine beetle, UAlberta researchers caught greater numbers of the pest.
"As part of an operational control program, these methods could potentially weaken the spread of mountain pine beetle," said lead researcher Jennifer Klutsch.
In 2016, the beetle was discovered attacking not only Alberta's lodgepole pine, but also new, mixed habitats of lodgepole and jack pine along with pure jack pine forests, said Klutsch, a post-doctoral researcher in the Faculty of Agricultural, Life and Environmental Sciences. The insect has already devastated lodgepole pine forests in British Columbia and the United States—millions of pine trees have been killed over the past decade in western North America.
"With this new threat, we needed to find out what Alberta-specific monitoring techniques should be and how to deploy them," Klutsch said. "Alberta has a different host pine than B.C. that is new to the mountain pine beetle. Each species of pine has different types and levels of chemicals that could change how the beetle behaves. Since tree chemicals are so important for the beetle to find its host, and the current baits were developed on lodgepole pine or ponderosa pine, we needed to test whether they would work or could be improved in Alberta, where there are lodgepole and jack pine hybrids and pure jack pine."
Continue reading at University of Alberta.
Image via University of Alberta.