New Maps Show Shrinking Wilderness Being Ignored At Our Peril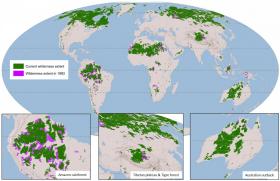 Maps of the world's most important wilderness areas are now freely available online following a University of Queensland and Wildlife Conservation Society-led study published today.
The authors have made the maps available to assist researchers, conservationists and policy makers to improve wilderness conservation.
UQ School of Earth and Environmental Sciences PhD student James Allan said these wilderness areas were strongholds for endangered biodiversity and critical in the fight to mitigate climate change.
"These ecosystems play a key role in regulating local climates, sequestering and storing large amounts of carbon and supporting many of the world's most culturally diverse – but politically and economically marginalized communities," Allan said.
Read more at Wildlife Conservation Society
Image: These new maps show shrinking wilderness being ignored at our peril. (Credit: James Allan UQ)