Reclaiming Appalachia: A Push to Bring Back Native Forests to Coal Country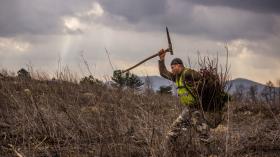 Near the top of Cheat Mountain in West Virginia, bulldozer operator Bill Moore gazes down a steep slope littered with toppled conifers. Tangled roots and angled boulders protrude from the slate-colored soil, and the earth is crisscrossed with deep gouges.
"Anywhere else I've ever worked," Moore says, "if I did what I did here, I'd be fired."
Moore is working for Green Forests Work, a small nonprofit, as part of a project to rehabilitate a rare red spruce-dominant forest on 2,000 acres that were mined for coal in the 1970s and 1980s. The mine became part of the Monongahela National Forest in 1989 when the U.S. Forest Service purchased more than 40,000 contiguous acres known as the Mower Tract.
Moore and other bulldozer operators hired by the nonprofit first knock down non-native Norway spruce and undesirable red pine. Then they score the heavily compacted dirt with three-foot-long steel blades; openings formed by this "deep ripping" allow newly planted native saplings, shrubs, and flowering plants to take root and thrive. The downed trees are left in place to curb erosion, build soil, and provide brushy habitat for birds and mammals.
Read more at Yale Environment 360
Image: A contractor for Green Forests Work plants native hardwood and evergreen seedlings on a reclaimed mine site in Dorton, Kentucky. (Credit: Green Forests Work)