Climate change: Self-enhancing effect cannot be explained by soil animals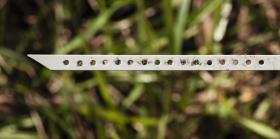 When the soil warms up, it releases more carbon dioxide (CO2) – an effect that further fuels climate change. Until now, it had been assumed that the reason for this was mainly due to the presence of small soil animals and microorganisms that would eat and breathe more in warmer temperatures. However, a new study in Nature Climate Change has shown that this is not the case. Quite the contrary: If warmth is accompanied by drought, the soil animals eat even less. In order to improve the predictive power of climate models, it is now crucial to understand the biological processes in the soil better, say the scientists.
The fact that the world's climate is changing is mainly due to the burning of fossil fuel. As a consequence, large quantities of carbon dioxide (CO2) are released into the Earth's atmosphere. However, additionally, climate change is also being intensified on its own, because global warming is also causing the natural carbon cycle to change. Although on Earth, carbon is constantly converted from solid compounds into gaseous CO2 and vice versa, warmer temperatures can further enhance carbon losses in form of CO2 from the soil. As a result, more CO2 is introduced into the Earth's atmosphere: a positive feedback.
Continue reading at German Centre for Integrative Biodiversity Research (iDiv) Halle-Jena-Leipzig
Photo: The scientists used so-called bait lamina strips to measure how much the soil animals were eating. (CREDIT: Julia Siebert)