Streams Can Be Sensors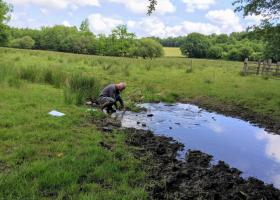 Scientists at Michigan State University have shown that streams can be key health indicators of a region's landscape, but the way they're being monitored can be improved.
New research featured in Ecology Letters showcases how streams can be used as sensors to diagnose a watershed's sensitivity or resiliency to changes in land use practices, including the long-term use of fertilizers. Using streams as sensors ­– specifically, near the headwaters – can allow scientists, land-use managers and farmers to diagnose which watersheds can be more sustainably developed for food production, said Jay Zarnetske, MSU earth and environmental scientist and co-author of the study.
"We were surprised to see that the streams were good sensors of long-term nutrient conditions," he said. "Our methods show that we can learn much from a relatively small number of samples if they are collected more strategically than current watershed management practices dictate. This understanding is critical in protecting aquatic ecosystems and ensuring human water security."
Continue reading at Michigan State University
Photo: Scientists at MSU have shown that streams can be key health indicators of a region's landscape, but the way they're being monitored can be improved. CREDIT: Ben Abbott