Researchers Use 'Global Thermometer' to Track Temperature Extremes, Droughts and Melting Ice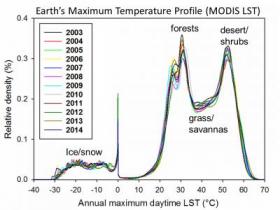 Large areas of the Earth's surface are experiencing rising maximum temperatures, which affect virtually every ecosystem on the planet, including ice sheets and tropical forests that play major roles in regulating the biosphere, scientists have reported.
An analysis of records from NASA's Aqua satellite between 2003 and 2014 shows that spikes in maximum surface temperatures occurred in the tropical forests of Africa and South America and across much of Europe and Asia in 2010 and in Greenland in 2012. The higher temperature extremes coincided with disruptions that affected millions of people: severe droughts in the tropics and heat waves across much of the northern hemisphere. Maximum temperature extremes were also associated with widespread melting of the Greenland ice sheet.
The satellite-based record of land surface maximum temperatures, scientists have found, provides a sensitive global thermometer that links bulk shifts in maximum temperatures with ecosystem change and human well-being.
Those are among the conclusions reported in the Journal of Applied Meteorology and Climatology by a team of scientists from Oregon State University, the University of Maryland, the University of Montana and the Pacific Northwest Research Station of the U.S. Forest Service.
Read more at Oregon State University
Image: Earth's Maximum Temperature Profile: Histograms of global annual maximum land-surface temperature capture the unique influence of different land-cover types on the expression of maximum land-surface temperatures. Tracking shifts in the distribution of these annual histograms provides a new integrated measure of energy balance components and land-cover change, and a different means to monitor biospheric change. (Credit: David Mildrexler, Oregon State University)