The Negative Impact of Climate Change on Freshwater Bodies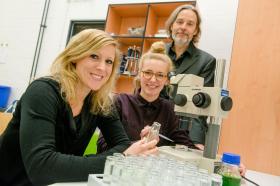 A lot of research is being conducted into the acidification of the world's oceans. A recent study has proved that freshwater bodies are likewise affected. Rising carbon dioxide levels could upset the balance of species.
Oceans are not the only bodies of water that acidify due to man-made climate change; freshwater systems are likewise affected – and this, in turn, could have an impact on the organisms living in them. This is the conclusion drawn by biologists at Ruhr-Universität Bochum following an analysis of long-term data from a number of freswhater reservoirs across Germany and controlled lab experiments with freshwater organisms. The results are published by the team headed by Dr Linda Weiss, Leonie Pötter and Prof Dr Ralph Tollrian from the Department of Animal Ecology, Evolution and Biodiversity in Bochum in the journal "Current Biology" on 22th of January 2018, which is already available online.
"The acidification of the oceans is often referred to as the evil twin of climate change," says Weiss. "The negative impact of rising carbon dioxide levels on marine ecosystems has been proved in numerous studies to date, whereas hardly any research has been conducted in freshwater systems. Our study has demonstrated that the acidification of lakes is a real problem."
Read more at Ruhr-University Bochum
Image: Linda Weiss (left), Leonie Pötter and Ralph Tollrian have researched into the ecological consequences of rising CO2 concentrations in bodies of standing water. (Credit: © RUB, Marquard)