Spotlight
2012 Weather in Review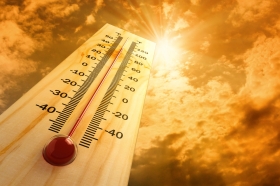 From tropical storms and hurricanes like Sandy, to extended heat waves and detrimental summer droughts, to unprecedented wildfire outbreaks in the American West, 2012 marked a historic year for extreme weather events in the United States.
In fact, 2012 takes the prize for the warmest and second most extreme year on record for the contiguous US thus allowing the year to break some other climate and weather related records.
The National Oceanic and Atmospheric Administration's National Climatic Data Center reports the State of the Climate and offers some of last year's highlights.
- 2012 marked the warmest year on record for the contiguous United States with the year consisting of a record warm spring, second warmest summer, fourth warmest winter and a warmer-than-average autumn. The average temperature for 2012 was 55.3°F, 3.2°F above the 20th century average, and 1.0°F above 1998, the previous warmest year. Every state in the contiguous U.S. had an above-average annual temperature for 2012.
- The average precipitation total for the contiguous U.S. for 2012 was 26.57 inches, 2.57 inches below average, making it the 15th driest year on record for the nation. This was also the driest year for the nation since 1988.
- Each season of 2012 had precipitation totals below the 20th century average.
- Tropical cyclone activity across the North Atlantic in 2012 as above-average with 19 named storms, ten hurricanes, and one major hurricane (Category 3 or stronger). This is the third consecutive North Atlantic tropical cyclone season with 19 named storms and ties with as the third most active season for the basin. Isaac and Sandy made landfall along the U.S. coast during 2012 causing significant impacts.
- The widespread drought conditions of 2012 peaked in July with approximately 61 percent of the country experiencing drought conditions. The footprint of drought during 2012 roughly equaled the drought of the 1950s which peaked at approximately 60 percent.
- Wildfire activity during 2012 was above-average with 9.2 million acres burned the third most in the 13-year record. The Waldo Canyon fire near Colorado Springs, Colorado destroyed nearly 350 homes and was the most destructive fire on record for the state. The Whitewater-Baldy Complex fire charred nearly 300,000 acres and was the largest on record for New Mexico.
- Tornado activity during 2012 was below the 1991-2010 average of approximately 1,200. The final 2012 tornado count will likely be less than 1,000 — the least since 2002.
Read more highlights at NOAA's National Climatic Data Center.
Thermometer image via Shutterstock.