A Green Performance: Now Showing At Your Local Theater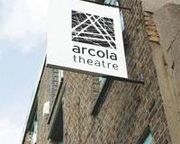 In just seven years Arcola Theater has become one of London's favorite and most important theaters. Now it has a new plan to put its name in the green spotlight, a commitment to powering them with a sustainable solution.
Theaters have large power demands, producing thousands of programs, lighting signs, stages & dressing rooms and the numerous costumes and props that are produced for large scale productions. But now through Arcola Energy, they aim to make Arcola the world's first carbon neutral theater, installing biomass heating, solar panels, fuel cells and state of the art energy saving technologies throughout the building.
Arcola has plans that extend past the arts and into a space for scientists and engineers to be in the limelight. A dedicated space, where these brainiacs can develop initiatives to tackle climate, change creating the first center for new energy technology in the arts. "Arcola Energy will be a hub for new thinking and cross-fertilization between art and science, bringing together artistic, entrepreneurial and technological creativity."
As a theater, Arcola has a longstanding tradition of innovation, inspiration and deep integration with the local community. Working to the same principles, Arcola Energy integrates arts and science professionals and the community to pioneer practices that will fundamentally change the way arts organizations work.
Their partners in this venture include distinguished advisors to government, industry and the arts as well as award winning new energy companies.
For more information contact Dr Ben Todd, Executive Director at energy [at] arcolatheatre.com or see www.arcolaenergy.com.