San Francisco's Grace Cathedral Will Install Solar Power System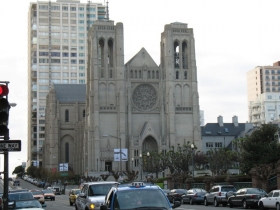 by Tom Schueneman
In a special ceremony this morning on the steps of San Francisco landmark Grace Cathedral, it was announced that Pacific Gas and Electric will partner with the Cathedral by providing $65,000 for the installation of a new, state-of-the-art solar photovoltaic (PV) power system.
Mayor Gavin Newsom told those assembled that this project helps advance the goal of making "San Francisco the greenest city in the country" adding "I commend PG&E for their vision of implementing renewable energy on a true San Francisco landmark. This project supports the City's goals of increasing the use of clean, renewable power".
PG&E senior vice president Nancy McFadden called this installation another step in promoting the utilities' commitment to promote "the use of solar photovoltaic systems and demonstrate that energy efficiency and renewable energy can be incorporated in even the most historic buildings"
Power From the Heavens
The third speaker in this Triumvirate was, naturally, from the Cathedral itself, dean Alan Jones:
"We're grateful to PG&E for its generous contribution to Grace Cathedral's ongoing environmental efforts. This new solar power system will help us conserve valuable resources, and empower us to be a part of the solution to attack greenhouse gases and global warming."
The deal between PG&E and Grace Cathedral was initiated by the hard work of Rev. Canon Sally Bingham, president of California Interfaith Power and Light, an organization founded on the idea that there must be a "religious response to global warming as the moral issue of our time".
The system will be designed and implemented by SolarCity of Foster City, with an expected completion date sometime this fall.
I worked for the Cathedral, with Alan Jones and Sally Bingham, from 2001 to 2005 as their chief sound engineer, and am personally very happy to hear that this project will soon come to fruition and make the cathedral a positive example of renewable energy within the faith community.