Energy Efficiency Stimulus Funds Coming to a City Near You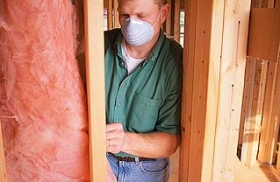 Funds from the Obama Administration's American Recovery and Reinvestment Act economic stimulus package are finally beginning to make their way to green projects near you. Aside from the expanded tax credits that we've highlighted previously, it's often tough to figure out how you as a home owner/renter can benefit from the confusing maze of funding sources.
One of the key funnels for money to local green projects is the Energy Efficiency and Conservation Block Grants program. Under the EECBG, the Department of Energy will distribute over $2.7 billion to local governments across the country. All cities/towns with over 50,000 residents are eligible, and most will receive several hundred thousand dollars or more (click here to see how much your town is receiving). Towns smaller than that can still receive funds, but must apply for them through their state energy office.
How can this program benefit you as a resident of an EECBG recipient? It's up to local government officials to determine how the local grants can be used, but many eligible activities could funnel resources directly to individual homeowners or local neighborhoods, including:
* Incentives for residential energy audits;
* Local energy efficiency financial incentives (rebates, financing assistance, etc);
* Funds to reduce transportation emissions by supporting employee flex time programs, bike lanes, rideshare commuting programs, etc.
Others that might impact your daily life include retrofits of traffic and street lights, changes in building codes to promote energy efficiency, and new incentives to promote recycling and use of recycled content products. You can find the entire list of efforts promoted by the EECBG program here.
The trick, as with any government funding program, is to make sure that your local officials structure the program in a way that benefits you and your fellow residents (vs. special interests who are also clamoring for these funds). The best way to do that is to contact your local government officials, and in particular anyone associated with energy or greening initiatives, and to make sure that your voice is heard. Applications by cities are due to the DOE on June 25th, and cities have to submit an Energy Efficiency and Conservation Strategy document that lays out their plans for the money within 120 days of application. Many cities will submit the EECS before that, so start advocating for your favorite programs now!
This article was reproduced with the kind permission of Low Impact Living.  For more news and information visit www.lowimpactliving.com