New Biofuel Could Lead to 100% Clean Flights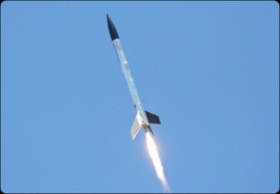 Earlier this month, a team of scientists at the University of North Dakota's Energy and Environmental Research Center (EERC) successfully tested a new biofuel based on a mixture of canola and soybean oils, and claim it may be the key to zero emission aviation.
The new super-biofuel, known as Jet Propellant-8 (JP-8) was used to launch a rocket above the Mojave Desert, where it approached the speed of sound and reached an altitude of 20,000 feet - a major leap forward in biofuel-powered flight.
Speaking about the launch Carsten Heide, associate director for the EERC said, "We demonstrated that this fuel is a flying fuel, and is 100% renewable and burns clean. It would open up the possibility to run 100% renewable, clean planes. You can see in the picture how clean it burns."
The rocket was built by Flometrics, Inc., a product engineering company specializing in fluid dynamics and thermodynamics based in San Diego, California.