Dutch have a simple answer to energy crisis – working together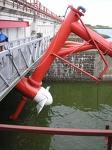 While tens of thousands of politicians and activists gathered hopefully in Copenhagen last Friday, a minor success was scored by eight men in wellingtons, standing on a barge beside the Afsluitdijk – the dyke that stops the North Sea from flooding the Netherlands.

The focus of attention was a small, two-bladed tidal Tocardo turbine which has been spinning in one of the sluice channels between the freshwater IJsselmeer and the saltwater North Sea for the past 18 months.
The Tocardo will be one of the technologies deployed in an ambitious plan to reverse global warming, fossil-fuel dependency and colossal power company profits if Hans van Breugel and Fred Gardner have their way.
A farmer and an engineer, these two Dutchmen have been building on the expertise that's kept the Netherlands above sea level for seven hundred years with new marine energy devices. Now they are building on the human interdependency that life below sea level has encouraged. The co-operative spirit is in with the bricks in the Netherlands – or rather in with the dykes. If one farmer builds a sea-wall, he's still vulnerable to flooding if his neighbour does not.
So from the year 1300, the Dutch set up polders – local groups for discussion and joint action. The "natural" co-operation encouraged is seen at its best on the narrow streets of Amsterdam, where bicycles have primacy and any motorist involved in an accident with a bike will be presumed to have caused it.
Article continues: http://news.scotsman.com/politics/Dutch-have-a-simple-answer.5926899.jp