GM to produce all-electric Chevy Spark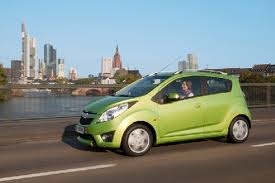 General Motors Co confirmed it will make its first all-electric vehicle, a version of the Chevrolet Spark minicar that will debut in 2013 and take aim at Nissan Motor Co Ltd's Leaf.
"Chevrolet will produce an all-electric version of the Spark minicar for selected U.S. and global markets, including California," Jim Federico, Chevy's global vehicle chief engineer for electric vehicles, said at the company's Detroit headquarters on Wednesday.
Electric cars have been slow to catch on. In the U.S. market, demand has been held back by the lack of models to choose from, skimpy infrastructure for charging the vehicles, high sticker prices, and low gasoline prices compared with other industrialized nations.
News of the electric Spark continues GM's push to seize the mantle of "greenest automaker in the world" from Toyota Motor Corp, which makes the popular Prius hybrid car.
GM, like other major automakers, also needs more fuel-efficient cars as the industry pushes toward more stringent U.S. requirements that will be in place by 2025.
Further details about the electric Spark, including driving range and price, will be released closer to introduction.
The Volt has a 400-pound lithium-ion battery that provides an electric-only range of up to 50 miles. After the battery is depleted, a 1.4-liter gas engine provides power.
Nissan launched the five-passenger Leaf in Japan and the United States in December 2010. The vehicle has an EPA-certified driving range of 73 miles.
Marketing an all-electric vehicle will mark a break for GM. It has emphasized the Volt's ability to continue driving under gas power even after its electric charge has been used as a way to prey on consumer anxiety about being stranded while driving an all-electric car.
Photo credit:  Chevrolet
Article continues: http://www.reuters.com/article/2011/10/12/us-gm-spark-idUSTRE79B4I220111012