Hydrogen could help cut emissions and boost wind and solar power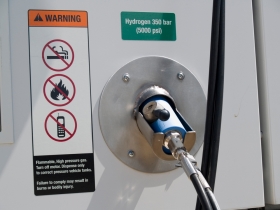 A new report reveals the significant potential for using hydrogen to reduce carbon dioxide emissions and improve the efficiency of renewable technologies, including wind and solar power.
"Hydrogen: untapped energy?", the latest technical report from the Institution of Gas Engineers & Managers (IGEM), explores how hydrogen can be used as a carrier to store energy produced from a wide range of primary sources, and to power applications including electric vehicles, heating and power generation.
It highlights a variety of applications the gas can have including increasing the useful output from solar and wind power installations.
The report describes how energy companies are investing in power-to-gas plant which use excess electricity generated to produce hydrogen, which can be transported and used later to produce heat or electricity with zero carbon emissions, reducing dependency on fossil fuels.
Hydrogen could also be safely be injected into existing gas grids and the resulting methane/hydrogen blend could be burned by existing gas appliances.
In addition, hydrogen applications could support the development of other low-carbon technologies such as carbon capture and storage.
However, the report points out that for a hydrogen economy to become a reality and allow the commercial scale adoption of power-to-gas plant, power generation, heating, and electric vehicles, public funds must be used to leverage private sector investment in hydrogen.
Article continues at ENN affiliate, Click Green
Hydrogen Dispenser image via Shutterstock