New generation of high-efficiency solar thermal absorbers developed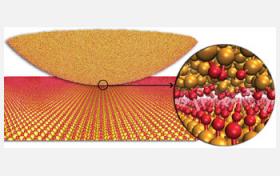 Researchers from the Universities of Bristol and Exeter are one step closer to developing a new generation of low-cost, high-efficiency solar cells. The structure is one of the world's first examples of a tri-layer metasurface absorber using a carbon interlayer.
The system, developed by Chenglong Wang a PhD student in Professor Martin Cryan's research group, uses amorphous carbon as an inter-layer between thin gold films with the upper film patterned with a 2D periodic array using focused ion beam etching.
The trilayer gold-carbon-gold metasurface strongly absorbs light across the solar spectrum but minimises emission of thermal radiation from the structure. The use of gold in the research is a first step towards a high temperature metasurface where gold can be replaced by other refractory metals such as tungsten or chrome.
The cell will be used for solar thermal energy applications and has the potential to reach much higher temperatures than simple black surfaces because it can minimise the emission of thermal radiation.
Image credit: University of Wisconsin via NSF
Continue reading at EurekAlert!