Experts anticipate significant continued reductions in wind energy costs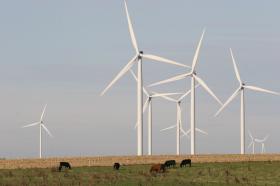 Technology advancements are expected to continue to drive down the cost of wind energy, according to a survey of the world's foremost wind power experts led by Lawrence Berkeley National Laboratory (Berkeley Lab). Experts anticipate cost reductions of 24%-30% by 2030 and 35%-41% by 2050, under a median or 'best guess' scenario, driven by bigger and more efficient turbines, lower capital and operating costs, and other advancements.
The findings are described in an article in the journal Nature Energy. The study was led by Ryan Wiser, a senior scientist at Berkeley Lab, and included contributions from other staff from Berkeley Lab, the National Renewable Energy Laboratory, University of Massachusetts, and participants in the International Energy Agency Wind (IEA) Wind Technology Collaboration Programme Task 26.
Continue reading at EurekAlert!
Image Credits: CEEESA / Argonne National Laboratory