Chemists at FAU develop a method for utilising nitrogen oxides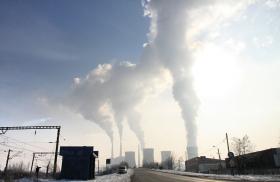 Chemists at FAU have developed a process in which nitrogen oxides generated during industrial processes can be used in the manufacture of colourants and medicines. Using the method, businesses will in future be able to combine the decontamination of exhaust fumes with the production of new substances.
Nitrogen oxides are a major environmental pollutant. Nitrogen and oxygen compounds are primarily formed during combustion, for example in automobile engines and coal and gas power plants, but also through other thermal and chemical techniques employed by industry. In order to clean these waste gases, the methods of post-combustion capture or catalytic reduction are employed – both of which are relatively complex and are also associated with certain disadvantages. But nitrogen oxides are not just unwanted toxins. In fact, recent research has shown that they can be used in the chemical synthesis of high-value products.
Using environmental pollutants as resources
A research team headed by Prof. Dr. Markus Heinrich, Medicinal Chemistry, FAU has now developed a highly efficient method of combining these two aspects – namely the purification of waste gas outflows and the practical recycling of nitrogen oxides. Using a model plant, the chemists based in Erlangen simulated a standard industrial process: the conversion of copper to copper nitrate. 'Copper nitrate is used as a colourant, an anti-corrosive coating, a wood preserving agent and as an oxidising agent in chemical synthesis,"'explains Heinrich. 'We have developed a way of directly using the nitrogen oxide created during the manufacturing process in the synthesis of balsalazide and sulfasalazine – two azo compound drugs used in the treatment of chronic inflammatory bowel diseases.'
Read more at Friedrich-Alexander-Universität
Image via Pixabay