Spiky Ferrofluid Thrusters Can Move Satellites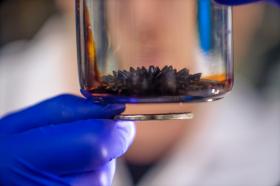 Brandon Jackson, a doctoral candidate in mechanical engineering at Michigan Technological University, has created a new computational model of an electrospray thruster using ionic liquid ferrofluid—a promising technology for propelling small satellites through space. Specifically, Jackson looks at simulating the electrospray startup dynamics; in other words, what gives the ferrofluid its characteristic spikes.
He is the lead author of a recent article in Physics of Fluids, "Ionic Liquid Ferrofluid Interface Deformation and Spray Onset Under Electric and Magnetic Stresses" (DOI: 10.1063/1.4985141.)
Up in Space
More than 1,300 active satellites orbit the Earth. Some are the size of a school bus, and others are far smaller, the size of a shoebox or a smart phone.
Small satellites can now perform the missions of much larger and more expensive spacecraft, due to advances in satellite computational and communications systems. However, the tiny vehicles still need a more efficient way to maneuver in space.
Read more at Michigan Technological University
Image: A ferrofluid is a magnetic liquid that turns spiky in a magnetic field. Add an electric field and each needle-like spike emits a jet of ions, which could solve micropropulsion for nanosatellites in space. (Credit: Sarah Bird/Michigan Tech)