NREL, Swiss Scientists Power Past Solar Efficiency Records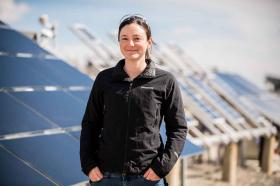 Collaboration between researchers at the U.S. Department of Energy's National Renewable Energy Laboratory (NREL), the Swiss Center for Electronics and Microtechnology (CSEM), and the École Polytechnique Fédérale de Lausanne (EPFL) shows the high potential of silicon-based multijunction solar cells.
The research groups created tandem solar cells with record efficiencies of converting sunlight into electricity under 1-sun illumination. The resulting paper, "Raising the One-Sun Conversion Efficiency of III–V/Si Solar Cells to 32.8% for Two Junctions and 35.9% for Three Junctions," appears in the new issue of Nature Energy. Solar cells made solely from materials in Groups III and V of the Periodic Table have shown high efficiencies, but are more expensive.
Stephanie Essig, a former NREL post-doctoral researcher now working at EPFL in Switzerland, is lead author of the newly published research that details the steps taken to improve the efficiency of the multijunction cell. While at NREL, Essig co-authored "Realization of GaInP/Si Dual-Junction Solar Cells with 29.8% 1-Sun Efficiency," which was published in the IEEE Journal of Photovoltaics a year ago.
Continue reading at DOE / National Renewable Energy Laboratory
Photo: NREL scientist Adele Tamboli, co-author of a recent article on silicon-based multijunction solar cells, stands in front of an array of solar panels. Credit: Dennis Schroeder