New Research Findings Could Lead to Safer and More Powerful Lithium-Ion Batteries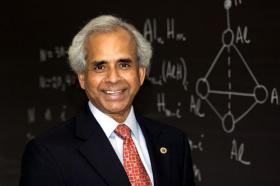 Virginia Commonwealth University researchers are working to improve conductivity and safety in lithium-ion batteries, which are used to power many electronic devices around the world, including laptops, iPods, satellites, artificial hearts and cell phones.
Instability in lithium-ion batteries due to liquid-state electrolytes that help carry charges from one battery electrode to another is one hazard scientists can prevent, said Puru Jena, Ph.D., a distinguished professor in the Department of Physics in the College of Humanities and Sciences. Despite this instability, liquid-state electrolytes are commonplace in lithium-ion batteries due to their conductive superiority over more stable solid-state electrolytes.
Theoretical studies by Jena and colleague Hong Fang, a postdoctoral fellow in the Department of Physics, show it is possible to design solid-state electrolytes not only to be as conductive as their liquid counterparts but also very stable. Their findings, which were published in the Proceedings of the National Academy of Sciences this month, could lead to safer and more powerful lithium-ion batteries.
"Theoretically, you can have your cake and eat it too, when it comes to the stability and conductivity," Jena said.
Read more at Virginia Commonwealth University
Image: This is Puru Jena, Ph.D. (Credit: VCU University Relations)