New Study Suggests the United States' Power Supply Has the Capacity to be More Adaptable to Climate Change than Previously Predicted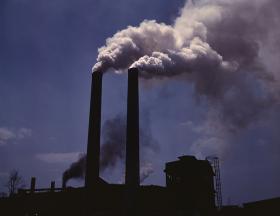 Climate change scientists warn that the continued burning of fossil fuels is likely to cause major disruptions to the global climate system leading to more extreme weather, sea level rise, and biodiversity loss. The changes also will compromise our capacity to generate electricity. In recent decades, capacity losses at United States power plants occurred infrequently, but scientists warn that the warming climate may increase their regularity and magnitude. This instability could interrupt power supply to homes, hospitals, transportation systems, and other critical institutions and infrastructure at a potentially high financial cost.
A new paper written by City University of New York (CUNY) scientists — "Climate and Water Resource Change Impacts and Adaptation Potential for U.S. Power Supply", published in Nature Climate Change — has found that climate change ultimately will have a negative effect on the reliability of electricity generation in the United States, but today's infrastructure may be more adaptable to future climate conditions than previously thought.
Improvements in resiliency are largely the result of efforts driven by policy and economic opportunities that are making U.S. power supply cleaner and more efficient, said scientists with the Advanced Science Research Center (ASRC) at the Graduate Center, CUNY. Modern power plants use fewer natural resources, such as water, to produce electricity, making them more adaptable to warmer, drier conditions than older plants. And they are better able to maintain power supply reserves during peak demands. While some regions appear susceptible to climate-change-related constraints on electricity production, an excess of reserves in other less-affected regions can aid those with diminished reserves, said Ariel Miara, ASRC research associate and lead author of the paper.
Read more at Advanced Science Research Center, GC/CUNY
Photo credit: Alfred T. Palmer via Wikimedia Commons