After an Uncertain Start, U.S. Offshore Wind Is Powering Up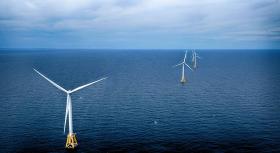 This summer, the Norwegian energy company, Statoil, will send a vessel to survey a triangular slice of federal waters about 15 miles south of Long Island, where the company is planning to construct a wind farm that could generate up to 1.5 gigawatts of electricity for New York City and Long Island — enough to power roughly 1 million homes. Construction on the "Empire Wind" project, with scores of wind turbines generating electricity across 79,000 acres of leased federal waters, is scheduled to begin in 2023, with construction completed in 2025.
Farther south, 27 miles off the coast of Kitty Hawk, North Carolina, Avangrid Renewables, an Oregon-based company, has already begun planning for a major wind energy farm on 122,000 acres of federal waters, a project that could eventually generate 1.5 gigawatts of electricity.
And about 10 miles off the New Jersey coast, between Atlantic City and Cape May, Danish clean-energy giant Ørsted, which has a large portfolio of offshore wind farms across Europe, is talking with local officials, securing state permits, and doing seafloor surveys on a 160,000-acre site, where it plans to build its 1–gigawatt Ocean Wind project. Company officials say they are hopeful that the wind farm will come online between 2020 and 2025.
Continue reading at Yale Environment 360
Image Credit: Ionna22