Got (organic) milk?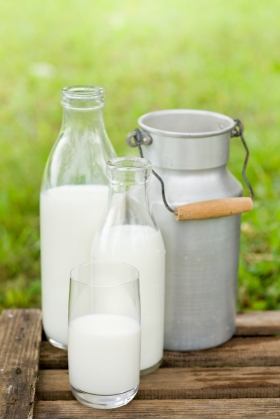 In recent years, advertising for milk and milk products has been seen everywhere in mainstream America. Not only do we have our doctors telling us to drink more milk, but we also have celebrities endorsing the product. Of course milk does the body good, but do some types of milk do better than others? What about milk's impact on the environment? To analyze these questions, researchers need to study the types of farms from where the milk originates.
As with the case for most farms, large-scale farm businesses have been taking over smaller, local farms causing tons of pasture-based dairies to disappear from the landscape. Even though the demand for organic milk and dairy products is on the rise (raking in at least $750 million annually), most of our country's milk is coming from cows confined in animal feeding operations known as CAFOs. Not only do CAFOs make a less nutritious milk product, but they also pollute our air, water, and soil and reduce the effectiveness of antibiotics in humans.
According to the Union of Concerned Scientists' new report "Cream of the Crop: The Economic Benefits of Organic Dairy Farms," promoting healthier products while simultaneously supporting rural economic development and meeting the demand for organic milk, should be a national priority.
This report is the first to calculate the economic value associated with organic dairy farming and it reveals the potential for the sector to create opportunities and jobs in rural economies. The report compares the economic impacts of organic and conventional milk production in two major dairy states, Vermont and Minnesota. The report found that increased sales from organic dairy farms in these states lead to greater economic impacts in those states when compared with the results of an equivalent level of sales from conventional dairy farms. Researchers also conducted case studies in broader regions namely the Northeast and the Upper Midwest in order to assess how the economic impacts of small pasture-based farms vary by region.
Besides the economic benefit of organic dairy farms, the product is also a healthier option. Because organic milk comes from cows that graze in pastures, eat organically grown feed, and are not treated with hormones or antibiotics, organic milk is deemed more natural and therefore healthier.
Significant improvements are needed in federal policies so organic dairy farmers can operate their farms more effectively and compete in the market. The report also suggests that regulations for CAFOs must become more stringent and federal dairy programs need to fund important research programs that could improve the efficiency of pasture-based systems.
For more information see the full report "Cream of the Crop"
Milk image via Shutterstock.