2 tons of elephant ivory seized in Hong Kong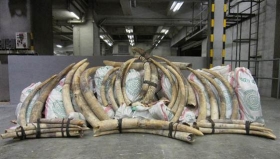 Hong Kong customs officers have seized a large shipment of African ivory hidden in a container that arrived by sea from Malaysia. Hong Kong government officials said Tuesday that officers found 794 pieces of ivory tusks estimated to be worth $1.6 million.
The officers found the tusks, which were hidden by stones, on Monday after deciding to examine the shipment, which the officials said was labeled "nonferrous products for factory use."
The container arrived from Malaysia, but the officials did not say where it originated from. A 66-year-old man was arrested and officials are investigating.
Headed to China?
The wildlife trade monitoring network TRAFFIC said the shipment appeared destined for mainland China, which the group considers the leading driver of African poaching. Ground-up ivory is often used in traditional medicine in China.
"The authorities in Hong Kong are to be congratulated on this important seizure, but it is now vital to ensure that all leads are followed to track down those responsible along the entire smuggling chain," said Tom Milliken, TRAFFIC's elephant and rhino program coordinator, in a statement on its website.
Article continues: http://www.msnbc.msn.com/id/44342847/ns/world_news-world_environment/#.Tl-Au2poV8E
Image credit: Hong Kong's Information Services Department