Another Buffett Rule: No Shortcuts on the Environment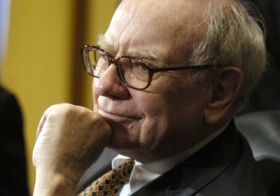 While the Senate attempts to deal with the so called Buffett Rule, which would force rich folks to pay taxes at least at the same rate as their secretaries, the rule's namesake, the billionaire investor Warren Buffett, has also spoken out on the environment in financial terms.
Simply put, respecting the environment is crucial to a company's bottom line he says. Buffett, chairman of Berkshire Hathaway, said in a short note included in the latest Johns Manville sustainability report published last week that "taking shortcuts is not the pathway to achieving sustainable competitive advantage, nor is it an avenue toward satisfying customers." JM, a Denver-based building materials manufacturer, is a subsidiary of Berkshire Hathaway.
Buffett's note continues: "Today our world is changing faster than ever before – economic, geo-political, and environmental challenges abound...In times such as these, a company must invest in the key ingredients of profitability: its people, communities and the environment. Johns Manville embraces this fact, utilizing the leadership of its employees, support of its communities and responsible use of nature's provisions to manufacture innovative, efficient and valuable solutions for customers around the world."
JM was once the largest asbestos maker in the U.S., but has shifted its business practice since claims from victims of the cancer-causing product forced the firm into bankruptcy in 1982. Berkshire bought the company, which has been around for than 150 years, in 2001. The lessons learned from the hard times helped JM to develop a "stronger commitment to the health and safety of employees and consumers that we live by today," according to the sustainability report.
Article continues at Triple Pundit
Image credit: Stephanie Kuykenal/Bloomberg News/Landov