Dalai Lama: Take Care of Our Home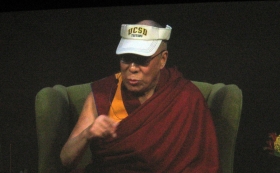 This week the Dalai Lama joined two distinguished scientists in highlighting how global warming threatens the one planet we all call home. His message: climate change offers an opportunity for every person to have a positive influence on the rest of the world. Besides, it is in our own best interest to do so. "Each individual's future depends on the rest of humanity," His Holiness told the crowd at the University of California, San Diego.
The spiritual leader and Nobel Laureate lamented the short-sightedness that has thus far prevented effective global action to reduce greenhouse gas pollution. He noted personal or national interests too often overshadow the bigger threats to our shared interest and shared future.
"This is a question of our life, our survival," he said.
The Dalai Lama's comments echoed those of two renowned climate scientists from the Scripps Institution of Oceanography who joined him in a panel discussion.
Article continues at ENN Affiliate Sierra Club
Dalai Lama image by Max Havins