With Effective Roadmaps and Political Will, Governments Can Create Healthier, Livable Cities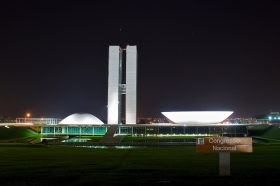 By harnessing an innovative mix of tools and approaches, governments can strengthen the economies of urban areas and improve their overall livability, according to research presented in the Worldwatch Institute's State of the World 2012: Moving Toward Sustainable Prosperity. Today, nearly 1 billion of the world's poor live in urban areas that are dangerously overcrowded and lack adequate access to basic sanitation and clean water, with wide-ranging health and environmental impacts. But even in wealthier countries, governments face serious challenges in making their cities more inclusive, sustainable, and livable. In 2010, informal urban settlements, known more commonly as slums, housed approximately one-third of the urban population of developing countries. "Slum populations are often viewed as an eyesore, but few realize that the urban poor are at the core of a city's economy, accounting for a large share of employment and performing essential functions for the city," said Eric Belsky, Managing Director of Harvard University's Joint Center for Housing Studies and State of the World 2012 contributing author.
In his chapter, "Planning for Inclusive and Sustainable Urban Development," Belsky calls for a new paradigm for urban planning that utilizes all levels of government to promote more livable, environmentally sensitive, economically competitive, and socially inclusive cities. Although there are formidable barriers to inclusive and sustainable development, several bold steps, such as the creation of National Urban Sustainable Planning Commission, national incentive funds, and international academic collaboration on urban planning, can be taken to overcome these challenges. "With deliberate spatial planning, we can mitigate the environmental and health risks of slum dwellers, as well as harness their potential to contribute to economic growth and move out of poverty."
In the United States, meanwhile, more than 200 cities have developed plans for improving economic, environmental, and social sustainability, but few have established specific metrics to monitor their progress. A national indicator system would help cities more uniformly measure their success in moving toward sustainable development, according to the University of Pennsylvania's Eugenie Birch and Amy Lynch, co-authors of "Measuring U.S. Sustainable Urban Development" in State of the World 2012.
For further information see Cities.
City View image via Wikipedia.