Lisa Jackson Departs EPA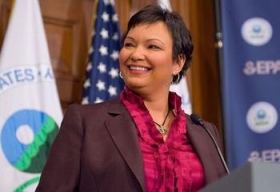 EPA chief Lisa Jackson announced yesterday that she will be leaving her position as head of the Environmental Protection Agency. She said she has discussed her departure with the President and will step down after the January inauguration.
Jackson, the first African-American to hold the post, was a strong advocate for the environment and for the public health that depends on it. When she accepted the appointment four years ago, she was expecting an opportunity, as many of us were, to reclaim much of the ground lost during the eight years of the George W. Bush administration.
The Obama administration has thus far not been able to move forward nearly as quickly or effectively as the Bush administration moved backward on these issues. Early efforts to institute a cap and trade program for carbon dioxide actually passed the House but became mired in the Senate as the impact of the financial crisis became clear.
There were several important victories during the first Obama term, most notably the endangerment finding, which reclassified carbon dioxide as a pollutant allowing it to be regulated by the EPA. Other major wins include the new fuel economy standards raising the fleet average mileage to 35.5 mpg by 2016, which were then updated last year to 54.5 mpg by 2025. There was also an important ruling regulating mercury emissions from coal plants, which certainly has helped to seal the fate of coal as an energy source going forward. Jackson was also influential in helping to persuade the president to hold off on approving the Keystone XL pipeline.
Article continues at ENN affiliate, Triple Pundit
Image credit: EPA