Warming climate puts wetlands more at risk to invasive species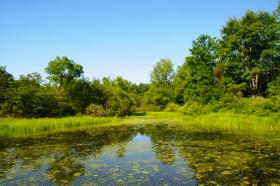 In the battle between native and invasive wetland plants, a new Duke University study finds climate change may tip the scales in favor of the invaders -- but it's going to be more a war of attrition than a frontal assault.
"Changing surface-water temperatures, rainfall patterns and river flows will likely give Japanese knotweed, hydrilla, honeysuckle, privet and other noxious invasive species an edge over less adaptable native species," said Neal E. Flanagan, visiting assistant professor at the Duke Wetland Center, who led the research.
Increased human disturbances to watersheds and nutrient and sediment runoff into riparian wetlands over the coming century will further boost the invasive species' advantage, the study found.
"It's death by a thousand small cuts. Each change, on its own, may yield only a slight advantage for invasive species, but cumulatively they add up," said co-author Curtis J. Richardson, director of the Duke Wetland Center and professor of resource ecology at Duke's Nicholas School of the Environment.
If left unchecked, over time these change will reduce the diversity of plants found in many wetlands and could affect the wetlands' ability to mitigate flooding, store carbon, filter out water pollution and provide habitat for native wildlife, the authors said.
The scientists published their peer-reviewed findings this week in the journal Ecological Applications.
The study, funded by the U.S. Environmental Protection Agency (EPA), is the first large-scale field experiment to simulate how future environmental changes linked to global warming and land-use change will affect plant communities in major river systems in the U.S. Southeast.
Wetland and forest image via Shutterstock.
Read more at EurekAlert.