Xanterra's Zion Lodge Receives Sustainable Hotel of Year Award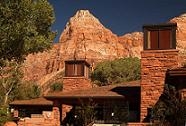 DENVER—The historic Zion Lodge in Zion National Park was named the Sustainable Hotel of the Year at the recent HotelWorld Global Hospitality and Design Award Ceremony and Expo in Las Vegas. The award was presented in recognition of the many environmental programs implemented by Denver-based operator Xanterra Parks & Resorts.
"With its setting in one of the country's most breathtaking national parks and because of its remarkable history, it is especially critical to do everything we can to minimize the environmental impact of Zion Lodge," said Chris Lane, vice president of environmental affairs for Xanterra. "We have been successful in implementing new technologies and products, and we are already applying those successes to programs at other Xanterra lodges and resorts throughout the country."
Xanterra last year created six eco-friendly suites at Zion Lodge. The goals of the project were to incorporate as many environmentally sustainable features as possible and to ultimately reduce the consumption of natural resources and eliminate waste. The suites feature sustainable bamboo floor entryways, recycled content carpet, dual-flush toilets, filtered drinking water, organic cotton sheets and linens, all-natural biodegradable soaps and other amenities, shampoos and moisturizers in bulk dispensers, compact fluorescent lighting, automated heat and air-conditioning sensors, use of biodegradable and nontoxic cleaners, complimentary organic coffee and tea, key card lighting controls and LED nightlights.
Renewable Power Sources
In addition, renewable solar energy and wind energy are used to power 85 percent of the property's energy needs. Other lodge-wide practices include reducing water usage by only serving water on demand in restaurants, discontinuing the use of table cloths, composting food waste, providing in-room recycling containers, avoiding chemical pesticides, replacing bottled beer with beer on tap, restoring two acres of non-native grassland to its natural state and offering sustainable food choices in restaurants. Xanterra also purchased electric and hybrid vehicles and retrofit two other vehicles to propane. The company installed an energy-efficient, on-demand propane boiler in place of a polluting diesel-fired boiler.
The lodge has pursued third-party verification of its environmental programs. Its environmental management system is ISO 14001-certified, and the lodge joined the EPA National Environmental Performance Track program and is an EPA Energy Star Partner.
An interactive video display in the lobby of Zion Lodge explains its many environmental practices to guests and includes real-time monitoring of the on-site solar photovoltaic system.
Designed by Gilbert Stanley Underwood in the 1920s, Zion Lodge features 81 motel-type guest rooms and 40 Western-style cabins. After a fire in 1966, the lodge was rebuilt in 100 days with the top priority being to restore guest services. The lodge was restored to its original classic appearance in 1990, and the cabins were restored by Xanterra in 1998.